Week II of participating in Leigh vs. Laundry's Happiness Project.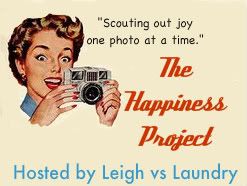 I really like the concept of her project. Happiness. Post a picture of something that makes you "wildly happy". The thought of that saying is a wild happy thought to me. It makes me stop & think about happiness & what it really means.
My happiness this week is something that is really important to me. My family.
We've had our share of roller-coaster rides.. the high up's, & the deep down low's. It's been 10+ years since we've had family photo's taken.
My Grandma's wish was to get our dysfunctional family together & snap a few. Her wish came true. With phone calls, begging & pleading, and wishing & hoping, I brought the family together for the evening.
A BIG thank you to Jon & Jhen Stark (
From Here to Eternity
) for capturing my Grandmother's wish. You two captured it well!
The above photo is my happiness entry, but I had to add a few more from the shoot:
Cousins. Yes, we're insane. We love each other... and it's happiness.