Happiness is, of course... Jae-Bug. My Monster. My love. My life.
Every piece of her is love. From her fingers to her toes. From her extreme determination to crawl to her exhaustion from working so hard. From her happy smiles to her fuss-butt moments.
But... right now... it's her toes. I mean, common... don't you just wanna eat those tootsies?
So cute. She's discovered her toes. They're her best friends... all 10 of them. And if she's not eating them then she's rubbing them together... discovering one foot with the other. I love watching her discover. She's happy. She's healthy. She's love. Love is happiness to my heart.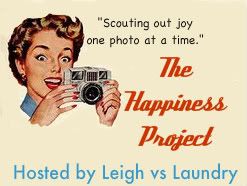 I rarely do this, but decided to take it one more step. Black and white... with a brown tint.
I used PTM's Make It Snappy action, adjusted some opacity, tweaked some levels, and removed Honey Snap. Next, added a brown color fill, and adjusted to 15% opacity. Here's my outcome:
On a different, yucky note:
Please, I beg you... don't steal my photo's. They're posted on MY blog for your lovely eyes to gaze at and for your heart to smile at. But the whole "right slick, save image as, and re-post" deal isn't ok. They're not yours to do that with. They're mine, and I will and did catch you... Thank you :)
With that said... here's ONE more happy photo for you.