Friday marks the day of the Bug's 6 month Birthday. What a milestone, right? So yesterday I set my cold aside, picked up my camera, and took on her 6 month photo shoot.
I hate to toot my own horn, but my kid is pretty darn cute! ("TOOT!, TOOT!")
Listen as you read. It's a beauty.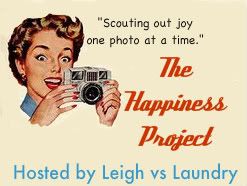 I never thought I would do this, but I'm going to throw down a pick up line that was once used on me, on my daughter... "your eyes are as blue as the water I surf in". I just did that. I wish I could take responsibility for those baby blues. I can take partial, but not full. You should see her Daddy's lookers... they're captivating.

Her lips are often referred to as "Angelina Jolie" lips. Don't get me wrong.. I dig it, but I must disagree. Those kissers are from her Momma. All me. Give me a break, I need to stake claim for something on her beautiful Bod.
"They call her LOVE"
"She is Love, and she is all I need"

I can't believe my life changed in so many amazing ways just 6 months ago. Never have I loved like I do. Never have I smiled this smile. Never have I felt I have achieved so much.
I love you, my little Bug. I made this banner for you... for good reason. You've climbed that 6 month milestone- Mommy & Daddy are SO proud.